Paris will never be the same again! The grand symbol of Catholic France, "Notre Dame Cathedral," was severely damaged in a raging fire…
It was one of those "Where were you when Notre Dame burned" moments!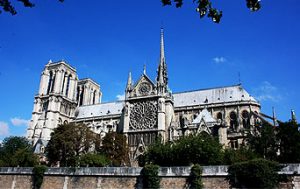 The faces of faithful Catholics kneeling on the street, praying, while beholding the tragedy spoke volumes. Agony, almost disbelief marked their faces, bearing eloquent testimony to something awful happening, really grave, something bigger than a mere fire.
I don't know about you, but for me this Cathedral and France are almost synonymous terms. I was glued in rapt wonder at the terrible spectacle of this beloved icon of Western Christendom in the heart of Paris, on fire!
Many times have I sat in that glorious interior and contemplated the marvel that the "Ages of Faith" generated in the production of such an architectural gem… One can get lost in its dizzy heights, the soaring columns, the intricate stonework – a fitting tribute to Almighty God!
Notre Dame was no mere Church – it is a veritable icon of Catholic Civilization – an edifice standing in absolute defiance of time, having borne the brunt of all that the ages could hurl against it!
One could not help seeing in this conflagration something terribly symbolic of our age…  
It has survived countless upheavals over its 850-year existence, including the French Revolution, the Franco-Prussian War and Paris Commune, Two World Wars, amongst others. Now, eventually conquered – by fire!
Its magnificent history boasts the marriage of Mary Queen of Scots, the beatification of St Joan of Arc, the coronation of Kings and Emperors and is the burial home of countless historical Ecclesiastics. Notre Dame (French for "Our Lady"), can accommodate 6000 people and counts 13 million visitors annually – people from all walks of life, nationalities, religions, who come to gaze at this masterpiece of Gothic architecture.
It is difficult to exaggerate the importance of this Church to Catholics, to France, to Catholic Europe…
That medieval man could construct such an edifice is already a marvel; it stands in mute testimony to our glorious Catholic Faith; its sculptured façade a lesson in catechetics; its soaring columns and flying buttresses a picture of architectural splendour –  simply looking at this Church is food for the soul!
It is the heart and soul of Paris – a gleaming gem on the Parisian skyline. It could quite easily be asserted, as some have, that Paris without Notre Dame is not Paris…
Watching this burn was almost a surreal experience – unimaginable, impossible incomprehensible…
On many people's lips, an anguished "Why"? Why would God allow such a terrible catastrophe and decisive blow to our Catholic culture?
Notre Dame housed part of the Crown of Thorns, a piece of the True Cross and a nail by which Our Divine Saviour was fastened to the Cross, not to mention an historic 8000-pipe organ, priceless statues and works of art – the home of "Our Lady of Paris".
And all this in Holy Week – the week preceding the holiest and most heart-wrenching events on the Christian calendar?
If you think like I do, and feel that nothing happens without a purpose, one could not help but see terrible symbolism in this fire, especially witnessing the magnificent and legendary Spire aflame, collapsing, and toppling into the inferno. This was for me a very emotional and figurative incident. Strangely enough, this fire coincided with the same day in history when the Titanic went down in 1912…
Are there some lessons for us to gauge from this tragedy? Is it all a chance disaster or should we perhaps see in this a wake-up call? Can we see in this a manifestation of God's anger along with a really merciful admonition? Can we conjecture somewhat on why He, in His Wisdom would allow such a symbolic gem of French culture, grandeur and unsullied Catholicism to fall so ignominiously.
Where does France stand today – indeed the world?
What is left of that indomitable Faith, that state of soul that could build such monuments to God's glory? That spirit which moved King Clovis, in the early centuries to embrace the Faith, together with all his Franks – earning France the glorious distinction of "first born daughter of the Church".
As individuals, as nations, particularly those with great vocations, we have ignored the admonitions of Our Lady (I think here particularly of Our Lady of Fatima's exhortations to prayer, amendment of life and sacrifice) and thus allowed our countries to be driven down paths which can only lead to ruin and disaster.
France, as in the ex-Christian West in general, is engulfed by secularism, de-Christianization, growing indifference and relativism. Churches are being shuttered and closed amidst catastrophic decline in Church attendance and the most enduring crisis of Faith in history… Never have so many fundamentals of our Faith been called into question! The sexual revolution holds most countries in a vice grip…
Cardinal Burke referred to the tragedy as a "sobering reflection" on the "attacks upon the infinite beauty of the faith by the grievous sins and crimes of our day."
There is fire raging everywhere, though we do not always see it… It is no exaggeration to say that we are living in a world opposed to Jesus Christ and His Holy Church!
In this climate of seemingly generalized apostasy, God Almighty permitted one of the masterpieces of our Faith and indeed, a world-renowned symbol of all things true, good and beautiful – one of our finest links to Medieval Christendom – to be nearly destroyed…
Can we see through the heat and smoke of this fire, perhaps, a merciful act of God, some shock-treatment for a humanity having lost its moral compass?
The faces of the people featured publicly praying the Rosary in this moment of anguish certainly reflect a deeper understanding, an interior perception that there was more at play here than an accidental fire –  almost like Our Lord is begging to be noticed, obeyed, embraced: "Please wake-up, obey my commandments, grasp the grandeur of this place, change direction, return to the Holy Faith… Embrace that which you have allowed to wither and disappear, or you will lose all."
By the grace and mercy of God, the relic of the Crown of Thorns seems to have been rescued, along with a special tunic of King St Louis IX, the great ancient organ and apparently the famous Rose stained-glass windows. Having watched the blaze and its intensity, it is really a miracle that these things were preserved.
Even the interior, despite a gaping hole, was seemingly intact! Amazing! This was certainly due to the millions of anguished faithful across the globe, in the streets of Paris, in their homes, begging Our Lady to intervene and save this special home of hers… What a fitting example of the power of prayer and particularly of the Holy Rosary!
May this gem of antiquity be restored to its former glory and along with it the vibrant, enthusiastic, and devout practice of the Faith that once gave rise to edifices of such soaring grandeur, majesty and beauty.
May God have mercy on us!
Our Lady of Paris, pray for us!