Many South Africans are concerned and alarmed by the official registration of the First Satanic Church in South Africa. Indeed, those "on the watch" usually hear of such movements making headway in America, or at least "somewhere else, but not here." Satanic activity is making great strides, particularly in the United States, with the erection of diabolical monuments, public invocations of the devil, "Drag Queen Story Hours" and even public "Satanic Masses." South Africans experienced a certain loss of innocence when waking up to find the peddlers of Satanic beliefs now ensconced on its shores. And with official approbation! Could such an abomination ever have been imagined?
Satanists Rebrand and Reveal Their "Mission"
Satanism embraces different forms, mentalities and strategies. The average South African's conception of a Satanic event conjures up ghastly images of blood-letting, frightful rituals and garish regalia. This imagery creates what Satanists call "Satanic panic." In addition, witchcraft in South Africa is bizarrely intertwined with murder and muti, which consolidates belief in this popular narrative. Nearly all modern Satanic groups distance themselves from this representation.
An article in the Mail and Telegraph by Ellen Mubwanda, 26 May 2020, reveals the sugar-coating: "The church's mission reportedly is to educate the public…and to address common misconceptions about Satanic practises as well as ease what they term as 'Satanic panic' – a general fear that South Africans have of anything that appears voodoo-like." The same article outlines the founder of this "church's" vision – "the main philosophy of Satanism is undefiled wisdom of oneself and living completely free of the guilt invoked by other religions as a result of natural human instinct."1 (emphasis ours)
Cunning Strategy – Breaking the Barrier of Horror 
Interviews with the local group's founders reflect a constant theme. Unfortunately, there has been no shortage of publicity for these new kids on the block, and their attempts to rewrite the narrative, which paints the objectives of the Satanist "church" in a sympathetic light. The Mail and Guardian quotes co-founder Adri Norton punting the same line, "The church's mission was to challenge the general public's understanding of their beliefs." Also, she added, "There's no organisation that represents Satanism in a positive way." The article further reports that the "church also emphasises it does not believe in devil worship, but rather in individualism and the equal promotion of all religious and faith movements." And not to be outdone, they make haste to trumpet their "social justice" credentials: "the church also had community outreach projects which donated time and resources to social and animal welfare organisations."2
All sweet and gentle…! Similar utterances and protestations of being "just a regular religion" can be gleaned from the "mission statements" of many similar Groups and Associations across the world – and of course, it has a certain logic! How is one to lure adherents when there is a cloud of abhorrence and revulsion hanging over one's organisation? They make an almost desperate attempt to disassociate their scrubbed brand of Satanism from any connection to the belief in and adoration of the monstrous creature and enemy of God – Lucifer – practically denying his existence in the process!
Four Strategies Satan Uses Against Christian Order 
How often has one seen this cunning strategy successfully implemented in so many other fields of human action! The evil is disguised under multiple layers, the public being fed material designed to "allay concerns." The process relies on generating sympathy, while simultaneously lessening hostility, and appealing often to examples or sophisms that are emotive and/or catchy…. This diminishes the opposition to evils and horrors, breaking down the wholesome barriers that exist in the soul. The net result is the "mainstreaming" of such evils and concomitant generalised acceptance. Thus, we have witnessed in South Africa the official "registration" of this "church" and the Satanic "alternative" will soon be considered simply a religion amongst many!  
One gets a glimpse of this in the disconcerting and perhaps attention-seeking News24 item, "Satanic church closed to public to protect high profile worshippers says co-founder." The article records co-founder Swiegelaar affirming "We have very well-known personalities, people who are on TV daily, in our congregation…as well as prominent businessmen. So, to protect their identity, we're certainly not going to allow members of the public to come to satanic rituals." Affirming the "ordinary" and "regular" nature of this "church," the co-founders declare in the article that "there were certain "rites of passage" – such as satanic weddings, satanic naming ceremonies, and more – which members of their congregation might wish to invite family, and were welcome to do so."3
Threat to Youth and Young Adults
With the collapse of morality in today's world, which has resulted in many living habitually in sin, the stage is set for the Satanic "church" to lure countless souls to embrace its mentality. The unrestrained pursuit of a hedonistic and self-centred lifestyle, where the "me" is glorified and worshipped, is the open door to the lures of Satanist doctrine. This newly packaged outreach of Satanism is a far greater danger than any group subscribing to grisly, macabre and ostentatious rituals! This is so because the Satanists are presenting their belief system in a way which plays directly into the narrative of modern dysfunctional youth. With the demise of the family institution, the net result finds many without stable roots, and ever on the prowl for greater "kicks."
This is where Satanism poses the greatest menace. The story of Wyatt Fleming, a 26-year-old New York student, featured in the 24 June 2019 issue of "Huck" Magazine (dedicated to "hedonism"), is a case in point. In the ominous sounding article "Why a new generation is turning to Satanism," Wyatt relates how he has found a new lease of life though Satanism. Tellingly, and herein lies an enormous peril for susceptible young people, Wyatt believes "there are a lot of young adults who would be de facto Satanists yet just don't know about it." He adds, "They could do a lot of good for themselves to embrace a religion that's about developing your abilities and self-awareness to live life on your own terms…."4 (both emphases ours)
In fact, Huck Magazine's opening teaser shows exactly how and with what success Satanism envisages exploiting the crisis of contemporary religion: "In a time of chaos and uncertainty, when traditional belief systems no longer seem to have all the answers, more and more young people are finding comfort in Satanism. But these aren't devil worshippers who drink blood or sacrifice animals. They're just regular people trying to squeeze the most out of life.5
Indeed, we are in the midst of a major civilizational crisis wherein the potential to spread the Satanist "message" is enhanced. This crisis, aided by that infecting the Church, has also tended to embolden "alternative" movements and doctrines. The public face of Satanists is, however, ugly and foreboding – often replete with tattoos, body piercings and tasteless attire. Despite their best efforts at "mainstreaming" their pernicious doctrines, this ugliness will shipwreck their goals of attracting substantial formal membership!
I Will Not Serve
Since his first cry of revolt and rejection of the prerogatives of Almighty God and subsequent banishment to hell forever, Satan has attempted to thwart all and every plan of God for man's salvation. His rallying cry "I will not serve" has echoed down the ages, seeking to ensnare mankind, in particular those with exacerbated pride, worldly ambition and slaves to their disorderly passions. What an enormous haul is at the demon's fingertips – fuelled by the cultural revolution whose emphasis on nihilism, amorality, rebellion and the "me" culture have left many people easy game!
Time and again, Satanists echo similar refrains in advancing their philosophy. The Huck article covers some telling assertions: "We see life as the great indulgence and want to enjoy it to its fullest for as long as we can." "The overarching dogma is not about worshipping any external forces – real or spiritual – but instead worshipping oneself…," "Satanists loyal to the Church of Satan are, in fact, atheists who accept all genders, sexualities, sexual preferences…."6
Grounded in the Satanic Bible
Indeed, The Satanic Bible, written by LaVey in 1969, with over a million copies in print, maps out clearly the essence of this "religion." The Huck article is revealing in showing how most Satanists hold up this work as their guiding dark. "LaVey's bible kicks off with 'The Nine Satanic Statements' which include: 'Satan represents indulgence instead of abstinence!'" And, "If everyone had a particular time and place for the purpose of indulging in their personal desires, without fear of embarrassment or reproach, they would be sufficiently released…."7 "Satan represents vengeance instead of turning the other cheek," is symptomatic of the inverted Satanic thinking. This one too is very revealing: "Satan represents all of the so-called sins, as they all lead to physical, mental, or emotional gratification."8 These are some of the nine Satanic statements featured in the introductory chapters of the "Satanic Bible." (emphases ours)
The Embodiment of "Anti-Christianity"
It is clear from the various utterances that Satanism, in its "we're just a bunch of people having fun" guise, rather, fundamentally embodies the anti-Christian message and lifestyle…. Where temperance, restraint and abstinence are hallmarks of Christianity, Satanism proposes perpetual "indulgence" as a norm. Where the Church teaches self-denial and humility, the Satanist message is "worship oneself," and "do your own thing." The pursuit of sexual purity and notions of sin and wrongdoing are for them "repressive" and inhibiting constraints in a philosophy which embraces all deviant lifestyles.
The "I will not serve" echoes distinctly in much of their creed, and hearkens back to the 1960s "hippy" and Sexual Revolution – "Neither God nor Master…!"  The Satanist program is one of unbridled search for pleasure and unrestraint. It encapsulates the anti-Decalogue, claiming the deadly sins as its own in contradistinction to the Church's appeal to the practice of the opposing virtues.
Why We Must Oppose the Satanic Offensive
Diametrical Opposites
How beautiful and sublime is the opposite of the Satanic creed, so lovingly purchased with the blood of Our Lord Jesus Christ and bequeathed to humanity in His Holy Church! The grandeur of the Church, evidenced in her liturgical life, sacred music, Religious Orders, sacraments, prayer life etc., call one to the contemplation of higher things. They speak of nobility, of truth, beauty and goodness – lifting minds, hearts, and souls to God. They focus on the end for which man was created – Heaven, beholding the Face of God, eternal happiness…
How different is this scenario from the temporal, fleeting and soul-destroying lure of Satanism with its empty, "live for the moment," promises! The devil is the father of lies, and for the transitory satisfaction of indulging one's base desires in a world of vice, licence, and self-love, hell beckons…. Despite attempts to deny the demon's existence, or to cover all under a veneer of respectability, he is the master of this degraded realm. The reward for indulgence in this sleazy trap is only suffering, misery and loss – and final irreversible damnation!
Lighting the Road Ahead
How many live today in the very way that the deadly philosophy of Satanism would claim as its own? How many people are following an unfortunate lifestyle which could make them easy prey to the glib words and soothing enticements of the demon and his false promises?
Satanism embraces a belief system that is so utterly repulsive that "official" approval is only possible in a dechristianised society! A healthy society's horror and rejection of the demonic would normally prevent this happening. The antidote to seduction by this "church" is a strong family life allied with the fervent practice of Religion. Frequent recourse to the sacraments and a devout prayer life are indispensable elements in this armoury.       
The registration of this Satanic "Church" is a terrible indictment of the moral degradation of South Africa – and should be a major wake-up call. To claim a "legitimate" status for Satanism, as if God did not have exclusive rights to our fidelity, is an absurdity. This will surely invite the punishment of Almighty God on the nation!
Prayers of reparation and especially the appeal to St Michael the Archangel are ever more necessary!  
Please conclude the reading of this article by praying this powerful prayer of protection for loved ones from the lure of the demon and his wiles. Let us also beg God Almighty to save South Africa from this added menace and guide it on the paths of a true Christian future….
Saint Michael the Archangel, defend us in battle. 
Be our protection against the wickedness and snares of the devil; 
May God rebuke him, we humbly pray; 
And do thou, O Prince of the Heavenly Host,
by the power of God, 
thrust into hell Satan and all evil spirits
who wander through the world seeking the ruin of souls. Amen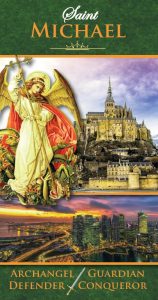 – By Bernard Tuffin
---
Footnotes